Preparing Your Staff for CMMC Compliance
By Heather Bennett
November 27, 2023
CMMC has ushered in a new era of cybersecurity standards for organizations working with the DoD. Achieving and maintaining CMMC compliance is a collective effort that involves not just technology and processes but also your most valuable asset—your staff. In this comprehensive guide, we'll explore how to prepare your staff effectively for CMMC compliance, ensuring that they play a pivotal role in strengthening your organization's cybersecurity posture.
Start with Awareness and Education
The foundation of CMMC readiness begins with awareness and education. Ensure your staff understands the significance of CMMC compliance, its implications for your organization, and their roles in achieving it. Here's how:
– Awareness Programs: Launch awareness programs or campaigns to inform your employees about CMMC, emphasizing its importance in safeguarding sensitive information.
– Training: Invest in CMMC-specific training for relevant staff members. To deepen their understanding of the framework, provide them with resources, such as training materials, webinars, or workshops.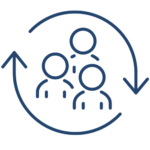 Determine which staff members will be directly involved in your organization's CMMC compliance efforts. Key roles may include:
– CISO: If you have one, your CISO should spearhead the CMMC compliance initiative, overseeing cybersecurity practices and guiding staff members.
– IT and Security Teams: Your IT and security teams will be at the forefront of implementing CMMC requirements. Ensure they are well-equipped with the necessary skills and knowledge.
– System Administrators: These individuals will play a crucial role in configuring and maintaining security controls, so ensure they are well-trained.
– End Users: Non-technical staff should be aware of cybersecurity best practices, as they can be the first line of defense against cyber threats.
Risk assessments are a fundamental component of preparing for CMMC compliance. These assessments involve a systematic evaluation of potential vulnerabilities and threats specific to an organization's information systems and processes. Identifying and understanding these risks is crucial for tailoring an effective cybersecurity strategy that aligns with CMMC requirements.
The process of risk assessment typically begins with a comprehensive analysis of the organization's infrastructure, data storage, and communication channels. This involves identifying potential weaknesses and points of entry that could be exploited by malicious actors. By conducting a thorough risk assessment, organizations gain insights into the likelihood and potential impact of various security threats, allowing them to prioritize and address the most critical risks.
Define Roles and Responsibilities
Implement Security Policies and Procedures
Regularly Test and Evaluate Staff Knowledge
Foster a Culture of Security
Provide Resources and Support
Provincia Government Solutions, LLC is a Nashville-based HUBZone-certified security and risk assurance firm, specializing in government regulatory and compliance cybersecurity requirements. Our expertise encompasses a wide range of standards, including NIST, FISMA, CMMC, SCA, 800-171, TRICARE, MARS-E, and Zero Trust Architecture (ZTA) solutions.
Our client base comprises government agencies, contractors, and commercial organizations affiliated with government entities. Whether you require audit preparedness, compliance and assurance assessments, security consulting, or CMMC certification, we have the knowledge and experience to assist you.
For a no-cost consultation, please don't hesitate to contact us at (615) 807-2822 or via email at info@provincia.io. We look forward to discussing your security needs and finding solutions tailored to your specific requirements.
When New Blog Content is Published
Provincia Government Solutions is a Nashville TN based Authorized CMMC Third-Party Assessor Organization (C3PAO) and SBA Certified small business specializing in Cybersecurity Assurance Services for government agencies, contractors, and commercial organizations affiliated with government entities.